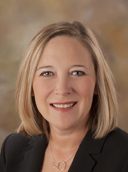 Tonya Lampe - Controller
Tonya plays an important role in our company while taking ownership for accounting, financial reporting, management reporting, analysis, budgeting, forecasting, and special projects.
Tonya started her career with Deloitte where she served as a Senior Auditor. She was recruited to West Corporation where she progressed to Director of Accounting before stepping out of the demands of a full time position to focus on her family. Tonya now enjoys the flexibility of a part-time schedule at Hemphill allowing her to spend more time with her family. In addition to her responsibilities at Hemphill, Tonya enjoys serving as Treasurer of the Rohwer Elementary PTO, and as a Teacher of religious education at St. Stephen the Martyr.
Tonya grew up outside of Lincoln, NE and earned her Bachelor of Science in Business Administration with emphasis in Accounting from the University of Nebraska-Lincoln.
Tonya and her husband Mark have three daughters Madisson, Ellie, and Ava. Tonya and Mark enjoy supporting their daughters athletic and club activities, and enjoying sunshine and relaxation on a beach whenever possible.