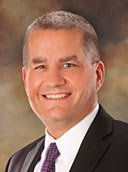 Steve Guenther - Senior Staffing Manager
Steve is a natural leader with a wealth of experience, an approachable style, and a passion to help others. His positive attitude, encouraging approach, and the smile on his face are contagious, so working with Steve is a real pleasure for all involved. Steve plays a leadership role while helping companies identify individuals who are well-matched for success and long-term happiness within all levels of office administration, office management, customer care, and executive assistant positions.
Steve takes the time to meet with managers to fully understand the position being filled and the outcomes that define success. With a detailed understanding of the skills, experience, and the type of person who will thrive in the position, Steve carefully selects an individual who is well matched for the position. He has fun identifying the "right match" while knowing that the leader will be thrilled with their new associate, and the individual being placed will be happy and well-matched with the work, and culture of the company.
Steve joined Hemphill after a very successful and decorated career in Store Manager positions with Wal-Mart and Kohl's. Steve thrived in retail management because of his ability to understand, work with, and lead teams who enjoy working together toward a common goal. After opening new stores and leading hundreds of associates to record results, Steve joined the Hemphill team where he narrowed his focus. Today, he is a specialist dedicated to helping leaders select employees who exceed expectations while being challenged, happy, and enthused about coming to work each day.
Steve grew up on a dairy farm outside of Crofton, Nebraska where he took responsibility for milking operations before and after school each day. He enjoyed football and was a First-team All-Conference selection his Junior and Senior years. Steve attended Wayne State College where he earned his Bachelor's degree with concentration in Management. Steve and his wife Jeani raised three beautiful daughters: Kelsey, Allie, and Jourdan. He and Jeani live in Papillion, worship at St. Columbkille Catholic church, and enjoy Husker Football games, golf, and outings to new restaurants with friends on Friday evenings. Steve is an outdoorsman and has always enjoyed hunting; he has passed his love for the outdoors and hunting along to his daughters, so be sure to ask him about their father-daughter hunting trips!