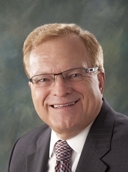 Dave Reemts - Business Manager
Dave is a seasoned financial executive who brings a wealth of leadership and experience to our firm. Dave leads all aspects of accounting and financial management, information technology, procurement, banking, risk management, human resources, and most aspects of our administration. Dave ensures that the systems, processes, and infrastructure are in place to support our continued growth.
Dave began his career with KPMG, was recruited to Sidles Enterprises as their Chief Accountant, and was promoted to Controller of Midlands Automotive Warehouse, a sister company. In 1987, Dave joined Byron Reed Company, Inc. and TransEquity, Inc. as their Vice President and Controller and was subsequently appointed to their Board of Directors. When the businesses were sold in 2003 and the owner retired, Dave accepted a position with Haley Associates as their Director of Acquisitions. Dave joined Hemphill Search Group, Inc. and Hemphill Staffing Solutions, Inc. in early 2006.
Dave grew up in Rock Rapids, Iowa, earned a Bachelor of Science Degree in Accounting from the University of South Dakota, and served our country with pride as an Officer in the US Army. Dave enjoys golf and both he and his wife Merrilee enjoy attending sporting events, traveling, home improvement projects, and spending time with their family.