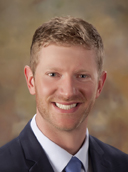 Bret Reyher - Associate Partner and Senior Staffing Manager
Bret is an accounting professional with experience in both public accounting and the financial management of a manufacturing company. At Hemphill, Bret's focus is helping companies select talented individuals for short and long-term projects, and temp-to-hire assignments within all areas of accounting, tax, audit, financial reporting, budgeting, forecasting, bookkeeping, accounts payable, accounts receivable, payroll, and compliance.
Bret takes pride in his role while investing the time and analysis to ensure he has delivered "the right match - the first time". Bret explains that the work is fun and rewarding; he enjoys utilizing his own experience within accounting and financial management to better understand the specifics of the project or position being filled. The key to our success is our in-depth understanding of the project that needs to be completed or the position that needs to be filled, then being diligent while identifying the individual who will step in and be successful right away. It is satisfying to know the individual we selected for the project or position is going to be successful, have fun, and feel a sense of accomplishment while making a real difference for our client.
It is fun coordinating projects for individuals who enjoy the diversity of working in several industries and gaining valuable experience while moving from one project to another. Some of the individuals we work with prefer to step into a temp-to-hire position where they are able to settle into the work, culture, and team of a certain company while determining if this position is the right match for them. Either way, it is very rewarding to help individuals select the position that leads them to a fun and rewarding long-term career with an excellent company.
Bret grew up in Canyon Texas which is just south of Amarillo. Bret earned his Bachelor of Business Administration degree, and a Master in Professional Accounting at West Texas A&M University. Bret started his career in public accounting, then stepped into a leadership role for Texas Farm Bureau where he led a staff, budgets, financial oversight, and lobbying at the state capital in Austin, Texas, and ultimately Washington, D.C. Bret relocated to Omaha and worked in accounting and financial management for a manufacturing and distribution company before joining Hemphill. Bret is an athlete and a huge college football fan. He played basketball throughout high school, loves nature, hiking, fly fishing, and the adrenalin rush of skiing the Rocky Mountains. Bret is an active member of the Omaha Young Professionals, Omaha Junior Chamber of Commerce, and the Joslyn Young Art Patrons. Bret and his wife Alexandra enjoy hanging out in downtown Omaha, spending quality time in Dundee, Benson, Little Italy, and many of Omaha's unique neighborhoods. Bret and Alexandra share a passion for travel, so be sure to ask him about the more than 25 countries they have enjoyed exploring.